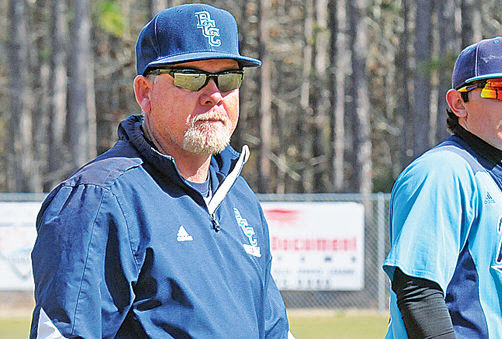 Robbie Allen has just completed his seventh year as head baseball coach at Brunswick Community College. where he was named the 2010, 2011, and 2013 Region X Coach of The Year. In seven seasons, Allen has seen the program climb to the top of the Region X Carolinas/Virginia Conference and had teams highly ranked in the National Polls during the 2010-2013 seasons with the 2013 club making the schools first appearance in the NJCAA World Series. In 2010 and 2011 the squad finished the regular season in first place and went to the Region X District Tournament as the number one seed. The 2012, 2013 and 2014 clubs finished the regular season in second place. In 2015, they won the regional and went to the NJCAA world series and finished 5th in the nation. Coach Allen was the recipient of the American Baseball Coaches Association Diamond Sports Regional Coach of the Year award in 2013.
As a former All Atlantic Coast Conference Player and a member of the 1980 College World Series team at Clemson University, Allen was a first round draft pick of the Los Angeles Dodgers. In 1983 Allen received the Minor League Best Defensive Shortstop of the Year Award given by The Sporting News. He was also a member of the Milwaukee Brewers AA Texas League Championship Team in 1986. Allen has nine years of professional playing experience and five years of professional baseball scouting experience. Allen's high school/college coaching experience spans over twenty-four years. Coach Allen is highly respected in the high school, college, and professional ranks as he brings wisdom, knowledge, and an innate ability to teach the fundamentals of the game to prospective players.
In his eighteen years as a high school coach, Allen guided his teams to 10 NCISAA State Championships and saw 26 players move onto play baseball at the collegiate level. He was named North Carolina Independent Schools Athletic Association (NCISAA) 1A Baseball Coach of the Year 10 times, conference Coach of the Year 10 times, and North Carolina High School Baseball Coaches Association, Coach of the Year, twice.
In seven seasons as head coach of the Dolphins, Allen has coached three All-Americans, and has seen 37 players move on to play baseball at four year institutions. The 2011 and 2013 squads lead this feat with eleven of its sophomores moving to four year schools. Coach Robbie Allen is looking for Dolphin Baseball to maintain its reputation as a quality program with a winning tradition.